Dégustation "Un demi siècle de Vins des Hospices de Beaune"- Millésimes à la Carte
Wine - Oenology , Open days
at Beaune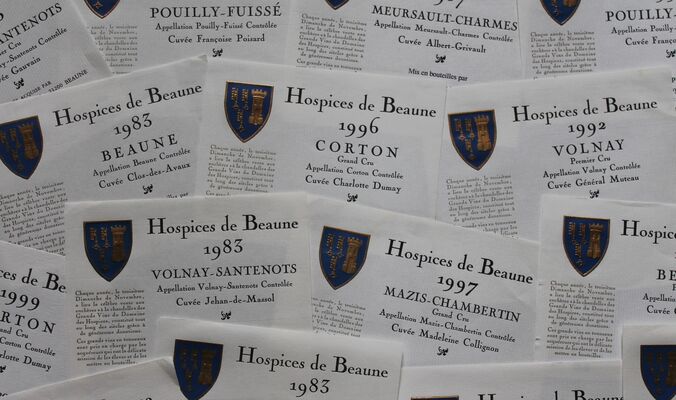 Millésimes à la Carte : Half a Century of Hospices de Beaune wines

Our tasting enables you to judge the potential of the Hospices de Beaune wines after bottling and aging, we offer a special tasting of several vintages from the estate with 2 white wines and 5 red wines including bottles of 5 to 50 years old.

POUILLY-FUISSE 2014 Cuvée Françoise Poisard

MEURSAULT PREMIER CRU CHARMES 2013 Cuvée Bahézre de Lanlay

*****
BEAUNE PREMIER CRU 2016 Cuvée Dames Hospitalières

POMMARD 2016 Cuvée Raymond Cyrot

BEAUNE GREVES PREMIER CRU 2011 Cuvée Pierre Floquet

CORTON 2011 Cuvée Docteur Peste

PERNAND-VERGELESSES PREMIER CRU 1969 Cuvée Rameau Lamarosse Vieux Millésime

For children: Pure Chardonnay juice or blackcurrant from Burgundy.
Space is provided for young children with crayons and games so they can have a good time, too.
From 39 €

From 36 €

From 3,5 €
From

November 12, 2019




until

November 14, 2019

From

November 15, 2019




until

November 17, 2019

On

November 18, 2019
Tuesday

10:00 AM - 12:00 PM

2:30 PM - 7:00 PM

Tuesday

10:00 AM - 12:00 PM

2:30 PM - 7:00 PM

Wednesday

10:00 AM - 12:00 PM

2:30 PM - 7:00 PM

Thursday

10:00 AM - 12:00 PM

2:30 PM - 7:00 PM
Saturday

9:30 AM - 7:00 PM
Monday

10:00 AM - 12:00 PM

2:30 PM - 7:00 PM